Here, you will find a broad list of physics and couplings available in the OOFELIE::Mutiphysics Solver.
Physics
The following physical fields are available in OOFELIE::Multipysics.
Mechanical
Thermal
Electrical
Acoustics
Fluids
Topology Optimization
Mechanisms
Static and transient
Modal

Real and complex

Wet-mode shapes

Harmonic
Linear buckling
Random vibrations
Strength assessment
Topology optimization
Iso- and orthotropic materials:

Viscous, viscoelastic and structural damping

Elasto-plastic, hyper-elastic non-linear materials
Perfectly matched layers (PML)
3D modelling
(Oriented) Volume, membrane, shell, rod, beam, lumped mass elements
Large displacements & pre-stress
Identical nodes, contact, perfect/non-perfect mechanical gluing, rigid body assemblies, mean
Special effects:
2-ways coupling with:

Thermal field
Electrical field

1-way coupling with optics
Static (steady-state) and transient
Topology optimization
3D modelling
Identical nodes, perfect/non-perfect thermal gluing, thermal contact admittance
3D mutual radiation (ray tracing)
Orbital model
2-ways coupling with

Mechanical field
Electrical field
Static and transient;
FEM / BEM coupling
Dielectric materials
Identical nodes
Perfect/non-perfect electrical gluing
RLC, electric dipole elements
2-ways coupling with

Mechanical field
Thermal field
Modal and Harmonic
FEM/BEM coupling

Acoustic Surface
Acoustic Rayleigh Surface

Acoustic material
Viscous, Structural Damping, Perfectly matched layers (PML)
Absorbent panel with frequency dependent admittance and impedance
Plane wave excitation, Point acoustic source, Prescribed normal displacement, velocity, acceleration
2-ways coupling with mechanical field
Static and Transient
Any gas or liquid material (Newtonian behaviour)
3D, 2D planar and axisymmetric modelling
Symmetry planes
Incompressible, Boussinesq Law, Compressible subsonic & supersonic (FINE™/FSI-OOFELIE), Inviscid, Laminar viscous, Turbulent viscous (FINE™/FSI-OOFELIE)
Boundary conditions

Velocity and temperature at inlet
Pressure at outlet

Boundary conditions

Non-slip flow
Surface heat flux or temperature at walls

2-ways coupling with mechanical and thermal fields
Physics
Static analysis
Gradient based method with MMA optimizer
Density-based approach
Adjoint variable method for sensitivities computation
Advanced SIMP laws
Multimaterial with or without void
Manufacturing constraint:

Minimum member size

Overhang

Filters on:
Various objective and constraint functions

Volume (Total or On specific material)
Total mass
Mechanical compliance
Thermal compliance
Displacement on points
Rotation on points
Temperature on points
Eigen frequencies

Uncertainty quantification in the model related to

Loads definition
Material properties specifications
Non-linear transient analysis
Rigid body
Joints

Hinge
Cylindrical
Prismatic
Screw
Universal

Co-rotational approach

Linear Super Element Models
Multilayer multiphysics shell elements
Mechanical mean

Large rotations beam
Controler definition

PID
LTI

Preliminary support of FMU import

Coupling with 3D mechanical elements
Couplings
The following couplings are accessible in OOFELIE::Multipysics.
Thermo-Mechanics
Opto-Thermo-Mechanics
Coupled Electrostatics-Mechanics
Piezoelectrics
Pyro-Piezoelectrics
Vibroacoutics
Electromagnetics – Low Frequency
Electro-Thermo-Mechanics
Electromagnetics – High Frequency
Hygro-Thermo-Mechanics
Static and Transient
Complex Modal and Harmonic
3D modelling
Thermo-elastic iso- and orthotropic materials
Thermo-elastic damping effect
Thermal dependency of material properties
2-ways coupling with electric field
1-way coupling with optics
Coupling with Zemax' OpticStudio
Automated data exchange via in-memory dialog
Description of surface deformations:
Zernike Standard or Fringe polynomials, grid of points, all aperture types
Rigid body motion recognition and ability to export separately to Zemax' OpticStudio
Thermo-optic effect:

Accounting for refractive index change as a function of Temperature.

Computation and visualization of refractive index gradients inside lenses.
Automated exportation to Zemax' OpticStudio
FEM/BEM coupling
Mesh morphing
Fast Multipole Methods for BEM
Pre-stress
Pull-in voltage computation
Static and transient
Modal and harmonic
Piezoelectric materials:

Hexagonal C6
Trigonal D3
Triclinic C1

Perfectly matched layers (PML)
(Oriented) Volume, membrane, shell
2-ways coupling with thermal
1-way coupling with optics
Pyro- Piezoelectric materials:

Hexagonal C6
Trigonal D3
Triclinic C1

(Oriented) Volume
1-way coupling with optics
Modal analysis
Harmonic analysis coupled

Complex direct
Projection in coupled modal basis
Projection in uncoupled modal bases

Harmonic analysis uncoupled

Uncoupled acoustic radiation
Modes radiation efficiency computation

FMM: Fast Multipole Method
Vibroacoustic Interaction using Incompatible meshes

Node-based interpolation
Projection interpolation

2-ways coupling with Pyropiezoelectric
1-way coupling with Electromagnetic
Electro-technical hypotheses
Static and Transient
Harmonic
3D, 2D planar and axisymmetric modelling
Magnetic non-conductor and conductor, isolator, Active and Passive conductor
Permanent magnet
Inductor

Given current direction, Axi-symmetric

Electromotive source

Current driven
Potential driven

Infinite extension medium, electromagnetic wire
Coupling with Mechanical (Laplace force) and Thermal (Joule effect) fields
Static and Transient
Thermoelectric conductor isotropic
Thermo-elastic electric conductor isotropic
Peltier, Seebeck , Thomson, Piezo-resistive effects
Joule Heating
Thermal dependency of Electrical and Thermal conductivity
Electromagnetic wave prpagation based on FDTD

Dissipative materials

PLM
Conforme mesh
S-parameters
Coupled three-field simulation

Computational electromagnetics (CEM)
Electrokinetic thermomechanics
Conduction current computation
Joule effect heating with thermomechanical coupling
Steady state or transient analysis
No magnetic field is considered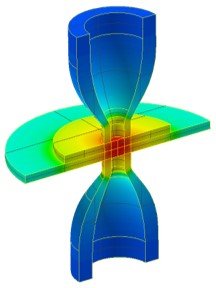 Electromagnetics - Low Frequency
Magnetostatics (magnetic field constant in time)

Source: Constant conduction current
Source: Permanent magnet
Electric field not influenced by magnetic field

Magnetodynamics (magnetic field variable in time)

Transient and harmonic analysis
Electric and magnetic field are fully coupled
Eddy current computation

Couplings with mechanical field (Laplace force) and thermal field (Joule effect)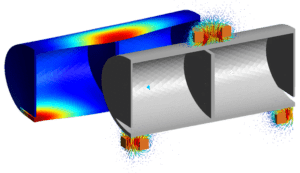 Electromagnetics - High Frequency
Full wave Maxwell's Equations solver
FDTD
PML
Tangent losses
Near-field-to-far-field transformations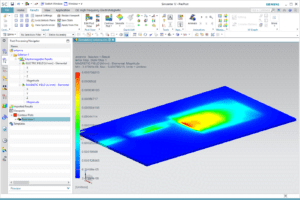 Computation of electrostatic forces using FEM or BEM
FEM/FEM coupling with mechanics.

Mesh morphing is available to account of large displacements of the structure.

FEM/BEM coupling with mechanics.

Fast Multipole Method available to accelerate large scale applications.

Understand the effect of pre-stesses on the response of the system.
Computation of the Pull-in voltage.