O
OFELIE::M

ultiphysics link to

Zemax

'

Optic

Studio
The OOFELIE::Multiphysics Solver is tightly combined with Zemax' OpticStudio through automated in-memory data exchange to help engineers accurately predict the behavior of optomechanical systems and MOEMS.

In a variety of optical applications, optical designs have to be combined with thermo-mechanical matters. For this reason, the OOFELIE::Multiphysics Solver automatically links to the well-known optical design software Zemax' OpticStudio.
While combining data from finite element analyses with ray-tracing tools typically requests time-consuming human operations, the automated in-memory data exchanges between OOFELIE::Multiphysics and Zemax' OpticStudio will guarantee you a fast, easy-to-use and reliable design flow.
Beyond the so-called "STOP" (Structural Thermal Optical Performance) analyses, this integrated solution also offers advanced modeling capabilities for the design of complex electro-optic devices such as MOEMS, including their steering mechanisms and active/adaptive optics.
Features
To interact with the optical design software ZEMAX' OpticStudio, OOFELIE::Multiphysics was provided with the following capabilities:
Automated in-memory data exchanges with ZEMAX' OpticStudio
Easy optical CAD export from ZEMAX' OpticStudio to OOFELIE::UI for further modeling
Irradiance exchange to calculate power dissipation in the components
Expression of structural deformations exchanged with ZEMAX' OpticStudio as:

A linear combination of Zernike polynomials
As grid of points

Separation of the rigid body component
Automated modification of the optical problem
Automated retrieval of optical performance indicators
Key features
Highlights
Application Examples

Integrated design flow
Industry Standard Designflow
Zemax'

Optic

Studio

 irradiance map used for automatic surface heat flux calculation
Deformation export at surface level
GRIN: Refractive index gradient as a function of temperature
Active optics
Aero-optic effects
Industrial multiphysics design for optical devices

Optical and multiphysics co-simulation analysis in:

Lasers

Beam homogenizer
Lens barrel

Adaptive optics
MOEMS

Scanning micro-mirror
Bilayer micro-mirror

Telescope
Head-Up Display
Missile seekers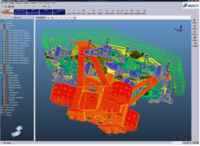 Position Control of a Segment of the E-ELT Introduction The application shows how to use a multiphysics software solution to perform integrated simulation of multiphysics controlled systems. In this particular case a control loop is implemented...