The O
OFELIE::M

ultiphysics Suite
The OOFELIE::Multiphysics Suite is an engineering software tool used to model, simulate, analyze, and optimize various types of systems before starting time-consuming and costly build-and-test cycles.
The Product's key Features encompass:
An efficient time-saving user interface
Efficient handling of supersized multiphysics problems
Easy customization and integration in your design flow
Conceived to integrate, share, and valorize your specialized intellectual property.
Save modeling time by being able to import, heal and optimize complex CAD models from most vendors and to re-use the same models in all physical simulation fields
The multiphysics simulation fields are Fully Strong Coupled and integrated
The OOFELIE::Multiphysics Suite is composed of three major components:
O

OFELIE::U

I

, the parametric graphical user interface

O

OFELIE::M

ultiphysics Solver

, the multiple field solver to predict the behavior of your application

O

OFELIE::A

DX

, the solution to explore the design space and optimize your model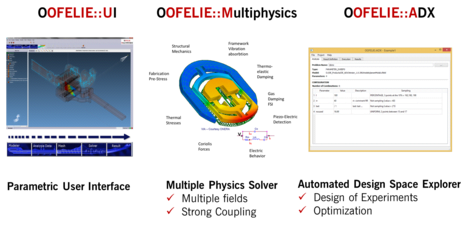 Main solutions by domains of application
Our 3D multidisciplinary design software is based on our proprietary OOFELIE::Multiphysics solver, optimized for the analysis of large design works.